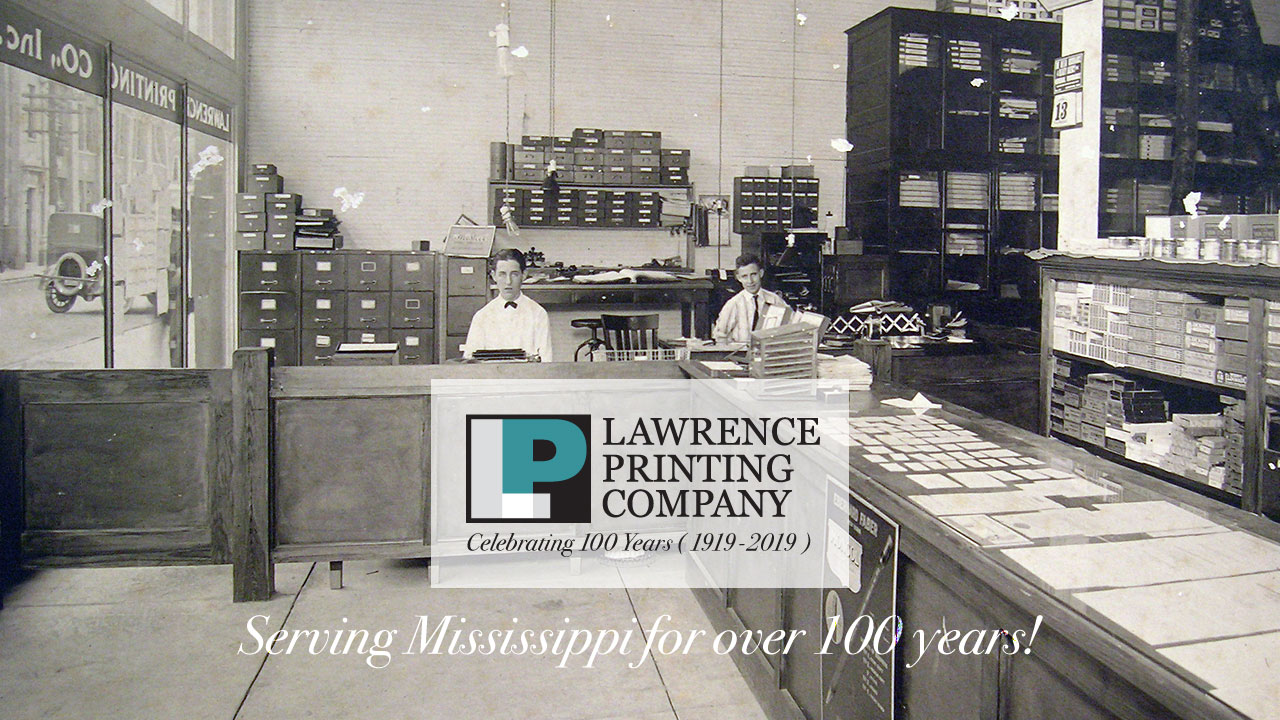 Our 100 Year History
1919 thru 1939
F. Ellett Lawrence came to Greenwood in January of 1919 and organized Lawrence Printing Company with the help of the late Calhoun Wilson, then Vice-President of the Wilson Banking Company, and the late W.R. Humphrey. Several years later, Mr. Lawrence bought all the outstanding stock. His idea that a commercial printing plant stressing quality work could be a success in this area proved to be a valid one. He remained President of the Company until 1966. His brother, Edgar M. Lawrence, served as Vice-President and Plant Manager from 1921 to 1966, then as president until 1971.

Lawrence Printing Company enjoyed modest growth during the first years and soon added office supplies and furniture as a service to its customers. Most of Lawrence's business was done with counties, municipalities, gins, oil mills, banks and the better type of commercial accounts.

Throughout the early times, Lawrence had good years and bad years. In this section of Mississippi, business was governed by the price of the cotton crop, and printing was no exception. On December 20, 1930, five banks in the City of Greenwood closed, and Lawrence struggled to stay open. With much determination, they made it. In 1938, Lawrence hired three junior salesman to add to the three experienced men they already employed. They also added 2500 feet of floor space, bringing the total to approximately 7500 square feet, paying $200. a month rent.

1940 thru 1966
In the early 1940's, the company recognized the increasing use of multi-part forms in offices and became the first printer in Mississippi to use one-time carbon for manifold snap-out forms. Then World War II came along, taking many of Lawrence's young people, and they were almost out of business for several years.

But recovery did come, and the company moved forward. Mr. Lawrence's nephew, G. Ellett Lawrence, joined the business in 1949 as a sales representative.

Lawrence Printing Company ran an ad in the Greenwood Commonwealth in 1949 on its adeptness at pen ruling which said, "For years and years we experimented with the various and sundry kinds of pen ruling, seeking a style that would be the best on the eyes of the bookkeeper, and at the same time be sufficiently clear and visible. Five or six years ago we found it. Mr. W.E. Taylor of the Taylor Machine Works at Louisville, would not think of letting any other firm handle his pen ruled forms."

Work began in the summer of 1958 on a new building on the corner of West Market and Cotton Streets. Considerable new equipment was installed, including a high speed rotary three-color offset press for printing business forms. At the time, it was the only press of its kind in the South.

Lawrence was already the largest printing company in north Mississippi, with approximately 30 employees. Growth in sales continued, and in 1960, Lawrence was again the first company in the state to install a web-fed offset press for the production of continuous computer forms. Lawrence had also added equipment to do magnetic ink imprinting of checks for the new electronic sorting equipment being put into use by banks across the country.

Lawrence introduced JERK-OUT forms in 1961, and an article appeared in a 1966 edition of Business Forms Reporter touting the benefits of snap-out forms and featuring Lawrence's JERK-OUT forms.


1967 thru 1986
G. Ellett Lawrence became president of the company in 1971, having been Sales Manager since 1955. With the addition of equipment to produce custom continuous computer forms, rapid growth followed, and in October 1986, Lawrence moved into a new 50,000 square foot headquarters building at 400 Stribling Avenue, off Highway 82 West.

This building was equipped with the latest in press technology to make it possible to produce forms of all types for business customers. Those presses are supported by state-of-the-art laser typesetting, computerized quality control testing and paper warehouse facilities. Stocking a wide range of paper types and sizes helps enable Lawrence to give prompt, reliable service.

Lawrence sells checks and other computer forms to specialized markets all over the United States. Three staff members - Ellett Lawrence, Malone Dunn, and George Ellis, Jr., became accredited as Certified Forms Consultants by the National Business Forms Association, the worldwide trade association which represents the independent segment of the business forms industry.


1987 thru 2019
George Ellis, Jr., who joined Lawrence in 1979, became president of the Company in 1993. He is committed to continuing the Lawrence tradition of quality forms delivered on time at a fair price.

Lawrence Printing Company has been successful by staying at the forefront of business forms technology. A rapidly growing field is producing the critical specification forms for use in image processing by laser, which reduces the manual processing of MICR documents such as check and deposit tickets. Design and typesetting expertise makes it possible to produce any type custom form as well as bar coded forms and electronic publishing.

Lawrence offers forms management services to its customers, including warehousing customer forms and shipping on demand, along with computerized monthly inventory reports. The Company has added warehouse space to facilitate the growing demand for this type service. Lawrence Printing Company continually upgrades its equipment, and in early 1994 added another four color forms press to its production line.

Mr. Ellis's son, Alan Ellis, joined the business in 2007 as a marketing manager.

In 2007, Lawrence having already been in the digital arena for several years upgraded digital printing operations by installing a Xerox iGen3. The Xerox DocuColor iGen3 digital color printing technology gives flexible abilities to add full-color, data-driven graphics to all needed documents for true One-to-One Marketing. The iGen3 provides unparalleled image quality, flexibility, speed, productivity, and paper-handling capabilities.

Today Lawrence Printing Company continues to lead with state-of-the-art printing capabilities. Contact us today for professional printing - it's in our blood.
---